07-22-13
The Original Broken records release Incandescent by Crumbacher has recently been re-released as a digital album by Frontline Records. Produced by Ojo Taylor and released in 1985, it has been digitally remastered and can be found here:
http://frontlinerecords.us/store
Hear a podcast about it here:
http://frontlinerecords.us/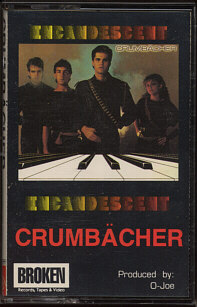 02-12-12
Coming soon, a reissue of The 77's Sticks and Stones CD! See http://www.77s.com/77sindex7.html for more info!
In related news, Arena Rock Recording Co. has released a Steve Scott retrospective entitled Emotional Tourist. The words "cheap suit" have been used to desribe The 77's involvement with some of these songs. Check out AARC's facebook page for more info!
Check out an interview with Ojo and Gene that appeared in a 1993 edition of WALPaper, a promotional magazine for the WAL label produced by Syndicate magazine, in the Press section.

12-12-10
Check out the July issue of Down the Line magazine featuring an interview with Ojo Taylor. He speaks quite a bit about BAI and early alternative Christian music. Follow the link below:
http://www.downthelinezine.com/archives/
Also, Intense Milliennium is re-releasing Undercover's Branded as a stand alone album. Listen to song samples here:
http://www.intensemillennium.com/